Honest Talk About Music Education Plus Practice Room Tidbits with Sax Pro Tony White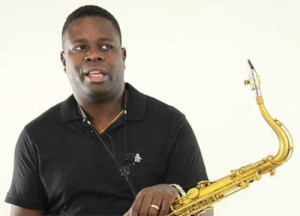 The Interview
ZS: Why did you choose the saxophone?
TW: When I first started getting involved in music was when I entered middle school. I really wanted to play the bass when joining band but my school did not have one. Since I could not play the bass, I was looking for another instrument which ended up being the tenor saxophone. I first started playing on the clarinet and then moved right to the tenor saxophone. Most saxophonists usually start on the alto and then move to the tenor saxophone. Why I gravitated towards the tenor saxophone was I really liked the bass and
as the tenor saxophonist you had the opportunity to play bass lines
which I really enjoyed.
ZS: What musicians helped you progress as a saxophonist?
TW: When I was growing up, a woman by the name of Mrs. Herman got me exposed to the instrument. In terms of professional saxophonists whom I listen to and try to incorporate their ideas would be Ernie Watts, Grover Washington Junior, Michael Brecker, and Keith Jarrett. When I decided to pursue music as my major in college, a musician named Frank Chase gave me a reality check in terms of how to play the saxophone correctly in regards to phrasing, sound production, intonation, and developing a more focused practice routine.
I found that playing along with records to be the most beneficial way to practice
the areas that Frank Chase recommend I focus on. Funny enough, I did not know about Charlie Parker until I reached college. In addition to playing saxophone, I played bass clarinet in concert band as well as baritone sax while attending college at UC Riverside which helped expand my understanding of other instruments.
ZS: How do you develop a good sound?
TW: Sound is a personal thing. Listen to guys who have a strong sound: Ernie Watts, Michael Brecker, Stanley Turrentine.
Through trying to sound like a certain musician you will develop your own sound
and I can't stress enough the importance on working on developing a good sound. Some players feel that when someone says "you sound like Michael Brecker" that you are copying Michael Brecker, but I feel that more players should understand this compliment as "You embody many of the great characteristics that many players associate with Michael Brecker."
ZS: What material do you find yourself practicing the most these days?
TW: I typically work on developing a more focused practice routine. What I mean by this is, for instance, taking a part a standard such as
Confirmation
. What I would do is play the head, and then just focus on the 'A' section. If I am having difficulty playing through certain chords, I condense my focus to just those two chords or even one chord to see what riffs would work over that chord. This is a great way to expand on ideas you have under your fingers. I will continue to play along with records because the great saxophonist,
Bob Sheppard
, reinforced this idea in me. Bob told me, "You need to hear and feel it to play Jazz".
ZS: What's the single best piece of advice you've been given over the course of your playing career?
TW: When I met Michael Brecker, he told me that
"nothing is impossible"
 and that you must enjoy the moment.
ZS: Do you believe Music Education has changed over the past few years?
TW: I have been in this business for over 28 years and many things have changed.
There are many music educators who are not equipped with demonstrating their passion for music and passing this passion and dedication to music on to their students.
Many music teachers must cooperate with math, science, etc in terms of students' schedules and the requirements the school board has decided that they must follow. The music director has to be passionate about the music and not allow the band to play average. The quality of music is the most important. Good equipment and bringing in teachers and clinicians into middle school and high schools will help motivate and enhance the students overall music experience. Even though there seems to be a lack of funding to some extent, there are grants out there to receive funding to purchase instruments. Besides the school's efforts to support music, parental involvement is essential to enhance the band program at their child's school, and
the schools with better organized parent programs are the one's that have not experienced the severe cuts that other music programs have seen
due to a lack of support and interest.
ZS: What's your saxophone equipment setup?
TW:
Saxophones
I play the Eastman 52nd Street saxophones exclusively. These horns have a great sound and the overall build quality and value help me focus on crafting my own sound.
Soprano- standard gold lacquer soprano
Alto- 52nd street saxophone
Tenor- 52nd street saxophone
Mouthpieces
Soprano- Drake Ceramic Dave Leibman model- large opening
Alto- Beechler jazz custom-7 tip opening
Tenor- ted klum focus tone metal-8 tip opening
Ligatures I use the Francois Louis ligature for soprano, alto, and tenor saxophone. Reeds
I primarily use Roberto's Reeds because I like the cut as well as consistency I get from every box.
---
Strike Up the LAUSD All-District Marching Band!
Anthony L. White, director of the LAUSD's All-District Marching Band, is pacing deliberately and staring at the ground, listening intently as the horn section rehearses "Sir Duke," a Stevie Wonder classic on a recent Saturday afternoon at El Sereno Middle School in East L.A.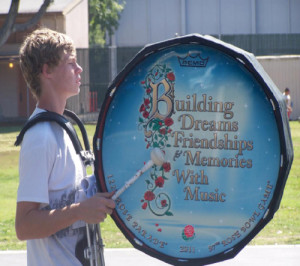 "Horns up," orders Art Duardo, the school's principal, who's conducting the band's afternoon rehearsal, as White looks on. To the untrained ear, their melodic harmony resonates. Duardo interrupts. "Tubas, you're dragging. Everyone, pick up the swing." With a nod, White concurs. Across the massive concrete school yard, his team of roughly 20 volunteers is putting more than 300 student musicians from 45 LAUSD high schools through their paces. Assorted horn players are assembled in the shaded lunch area. Near the handball courts, bass drummers march in place. In a classroom bungalow, cymbals crash together, while the rat-a-tat-tat sound of the drum line echoes in the distance. They're joined by drum majors, tall flag and shield flag bearers. "I love this time of year," says White, a former teacher and LAUSD graduate, who was in the marching band 26 years ago. He currently serves as coordinator of Visual and Performing Arts for the District's Beyond the Bell Branch. Now through mid-December, he, his team and the LAUSD All-District Marching Band are immersed in daylong Saturday rehearsals as they prepare for a slew of holiday performances, culminating with the band's 40th consecutive appearance in the Tournament of Roses Parade on January 2, 2012. More than one million people are expected to line the parade route while another quarter billion TV and online viewers worldwide are anticipated. "It's a momentous occasion," White says. "This band represents to the Los Angeles Unified School District and to the City of Los Angeles 40 years of greatness." His love affair with music dates back to middle school, when White saw his first ever jazz band performance. "I thought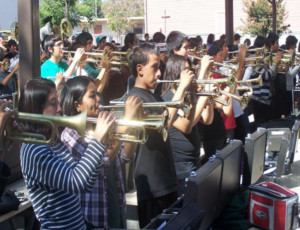 it would be so cool to be a part of something musical and creative," he recalls. As a member of the District's marching band in 1984-85, he played cymbals and continued his involvement with the band after graduating from Narbonne High School. While a student at U.C. Riverside, he spent most weekends volunteering with the LAUSD band. He worked his way up from gofer to eventually becoming the band's director. He also heads the District's All-City Jazz Band and its Youth Orchestra. "Music is so important," says White, who plays tenor and soprano saxophone. "Sure, students' classes and school are important and we want them to graduate, but band is an intrinsic part of their education as well. It requires them to go the extra step. We teach and reinforce what they're taught in school, their greater sense of connectivity. We're bringing lots of diversity and lots of students together. It's about music and the power of music to connect people." He loves watching his students soar both musically and personally. "It's great to see them progress, to go from zero to 100." The long hours of rehearsal and the challenges of playing in a marching band are embraced by the students. "Everyday you're learning something new, a different feel of the instrument," says trombone player David Waite, a senior at San Pedro High School and a four-year marching band veteran. "I really like performing in the Rose Parade. And besides the music and the marching, it's the physical feat of trying to conquer something." Drum major Jose Argueta, a senior at West Adams Preparatory High School, joined the marching band in 9th-grade. After a two-year hiatus, he's back. "I missed it," he admits. "It's been three years. There's nothing like it." Even band newbies Jocelyne Castro and Johanna Diego, from Jefferson High School, are sold. "I heard it was a great experience and something good to accomplish," says Johanna, who plays trumpet. "I want to be in the Rose Parade; I want to be a part of that," injects Jocelyne. White says his band members are committed. "Look. These kids are here on a Saturday. No one forced them to get on a school bus in the morning. It's the experience that brings them here. I got a guy who drove all the way from San Pedro after taking his SAT tests to be here at El Sereno Middle School for the first day of rehearsal. This experience makes leaders, builds character. Our job is to teach them the importance of preparing for college, for higher learning." White worries about the impact LAUSD' catastrophic budget cuts will have on the arts, typically the first victim of cost reductions. "We don't have a stable budget," he says. Yet the uncertainty of the economy hasn't stopped him from pursuing new opportunities for his students to perform. His tireless efforts have enabled him to successfully showcase his students and the LAUSD on several impressive local and national stages. There's the Playboy Jazz Festival where White and members of the LAUSD All-District Jazz Band have performed for the past two consecutive years. In 2009, the LAUSD jazz band performed at the White House with Grammy-winning trumpeter Wynton Marsalis for an audience that included first lady Michelle Obama. And earlier this year, White sat behind legendary singer Aretha Franklin and watched a group of his students from the Thelonious Monk Institute of Jazz perform at the Kennedy Center in Washington, D.C. "A powerful moment," he recalls. His bands have also played the Kodak Theatre, Disneyland, at Pasadena City College, and the Catalina Jazz Club, and the MLK Holiday Parade in Los Angeles. "Bottom line, I want students to perform," White says. "It's something for them to aim for, to prepare for. My dream is to do more of it and talk to students about the various possibilities of life. If you have the heart and ambition to follow your dream, you should follow your dream." At this rehearsal, that dream is a six-mile trek down Colorado Boulevard to start the new year.
---
Tony White Teaches How to Succeed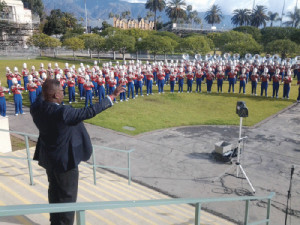 Tony White
, 46, always knew music would be his life. But the path to making it his career wasn't always so clear. Being the eldest of 10 children and the first to go to college, reality was a heavy load on his shoulders. "I had to try to become a major that would make money," he says. "I was a business major, music minor, when one day in class I realized I was hearing all these sounds of great artists—
John Coltrane
,
Michael Brecker
. I wanted to play like them. I wanted to play." White, a Los Angeles-born, bred, and based musician, began playing clarinet as a young child, and ever the bass-lover, was later drawn to the deep notes of the tenor saxophone. His playing gradually expanded to alto and soprano sax and electronic wind instrument (EWI), and he also came to realize his incredible love of teaching. "The reason I do it," he says, "is there's no greater fulfillment than working with young people. Even if it's just showing them how to put an instrument together. To inspire them, especially if they come to you and want to learn the language of music—nothing makes you feel better, emotionally, socially." White returned to teach at his former high school, John C. Fremont, where he launched that school's first music program. He's since worked with other programs and projects, including the Beyond the Bell Arts Program, the Henry Mancini Institute, Thelonious Monk Institute of Jazz, Inside Out Community Arts, The PEP Tournament, The Harmony Project, Latino Art Beat, Little Kids Rock, and more. The saxophonist also keeps his chops honed, performing regularly and releasing his own material, including
The Tony White Project
(2003), but his first passion is for teaching. The lessons he's learned from the greats that have inspired him ring true in his own life. "That's the great thing about music," he says. "It keeps you vibrant. You meet other musicians and they inspire you. You look at the traits they have and figure out which you want to take and adapt to what you're doing. It's a journey, not a destination. How do you reinvent yourself? There are so many possibilities. You work for the cause and not the applause. If you're working for the applause, you're not working for the right reasons. Work to be inspirational and stand for something and people will know it." He encourages his students to follow his example, and play with musicians of all genres and learn how to best use their musicality, no matter the style of music. "I like any genre where I'm able to improvise," the sax player says. "Music has no boundaries. I think being able to listen to any type of music and use your voice in those settings is very important. It's something I teach and express to my students: don't be afraid to play in a rock band, with a singer songwriter—use your musical sense. You have to be a risk-taker to make great music." Today, White continues to work with the Los Angeles Unified School District All City Marching Band, a group he first joined when he was 18 years old. He leads his students at numerous festivals and events, including performing at the Playboy Jazz Festival, Dorothy Chandler Pavilion, and the Pantages Theatre, among others. "I tell people all the time, the litmus test is that I love my job," he says of balancing his own family with educating and performing. "There is no magical formula. I practice the skills I'll need for the day I'll be encountering. It helps me stay focused and committed. You need to be spontaneous or you'll get into a rut." "Every day is a move in a forward direction. How can I impact my students' music? What's the global picture? How is my microcosm impacting the macro?" he asks himself. "And being in music—you can set your own goals. Rather than waiting for the phone to ring, you can start planning your next gig and make it come to fruition."
---
Los Angeles marching band winds up for the Rose Parade
Its 330-piece band could blow down almost anything along Colorado Boulevard. And when the Los Angeles Unified All City Honor Marching Band saunters down the 127th Rose Parade Friday, one man will be behind the all-brass juggernaut.
For more than 30 years, All City director Tony White has lit the fire beneath its distinctive brass and drums, drilling discipline and a love for music into thousands of Los Angeles teens. Then he helped instill pride for millions of Angelenos on New Year's Day.
---
Superintendent Michelle King marches in Kingdom Day Parade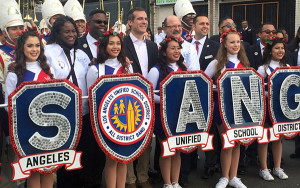 It isn't often that a superintendent of schools is treated like a celebrity. But many of those attending the Kingdom Day Parade on Monday recognized Michelle King, named just a week earlier to head L.A. Unified, and gave in to the urge to have their photo taken with her.
"It's Michelle King. Oh, my God, I'm so excited," one woman shouted as she posed for a selfie with the new superintendent shortly before the parade began. "I'm happy for you," the woman told King, smiling as a friend took the cell-phone camera to snap an even better picture.
---